Antonio does both Sales and Estimating for Saint Raphael Roofing. He joined the company in the past year and has been in the construction industry since 2003. He is currently focused on estimating for all new construction and gutter projects, meeting contractors and homeowners, and further development of the estimating software by building templates and other capability. Material availability and pricing can be very dynamic in the roofing industry. Antonio and the Operations Manager keep in constant contact with suppliers to stay current with this information for the hundreds of products used in commercial and residential roofing. In order to provide the most cost-effective opportunities for customers, they also look at future projections for the timing and size of price fluctuations and lead times.
With nearly 20 years in the industry, Antonio came to Saint Raphael Roofing with a strong skill set in business development, estimating, negotiations, renovations, and working with customers.
He is certified in OSHA 30, Autodesk Building Performance Analysis, HAAG (commercial roof analysis) Berridge Roofing, and has the AIC Associate Constructor Certification. Antonio has an Associates Degree from KCK Community College and a Construction Management Bachelors Degree from Pittsburg State University.
Antonio takes his work seriously. He knows that estimating directly impacts business results and requires a high level of attention to detail and great communications. If an item is overlooked or a mistake is made in either direction, it can hurt the company. If the estimating is done well, everyone keeps their job and the customers are happy. He likes the strong focus on building relationships and customer satisfaction at Saint Raphael Roofing. He likes the way that employees listen to customers, keep the lines of communication open, and are always willing to help. Antonio understands that true value does not come from price alone, but also from higher quality and service.
With his roofing experience, Antonio knows that great projects come from getting complete and accurate information at the start of the project, translating it into a good estimate and a strong project plan, and then following up with great execution and craftsmanship. Antonio is thankful to be working with a group of experienced people who know how to do things right, work together well, and are dedicated to getting the job done with high customer satisfaction.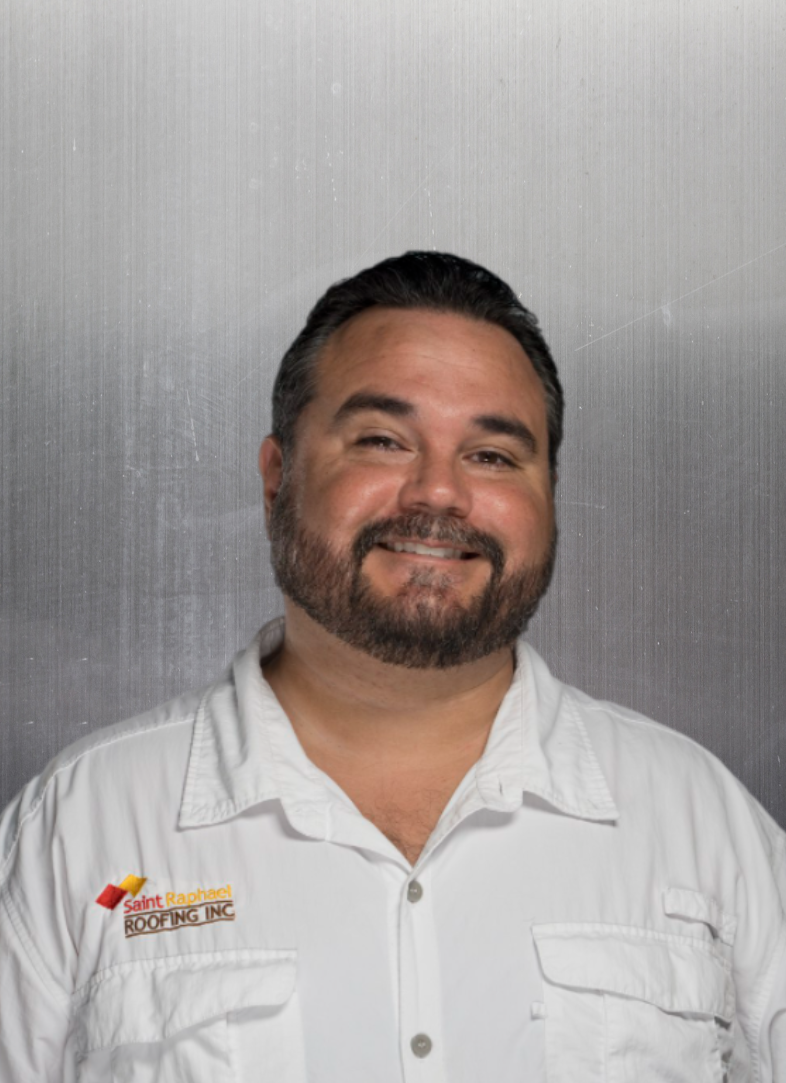 1 year with Saint Raphael Roofing
15+ years in roofing industry
Safety: The safety of our customers, employees, and community is of the utmost importance.
Customer Satisfaction: Customers are the reason we exist. We strive to be easy to work with and reliable in all ways. We provide high quality products, craftsmanship and outstanding communications.
Respect For All People: We strive to treat all customers, vendors, co-workers, and others as friends and neighbors. We treat them in the same manner as we would like to be treated.
Integrity: Our business is built on trust. We will adhere to all applicable codes and regulations. Our communications with customers, with each other, and with the community will be open and transparent.
Teamwork: We succeed as a team. We must all do our part.