At Saint Raphael Roofing, our mission is to provide our customers with the highest quality craftsmanship and materials at affordable prices. We take pride in our customer service, superior workmanship, and our ability to install the area's top roofing systems. Saint Raphael Roofing provides all roofing options, including asphalt shingles, concrete tile, metal, quick or complex repairs, modified flat decks, and roof restorations.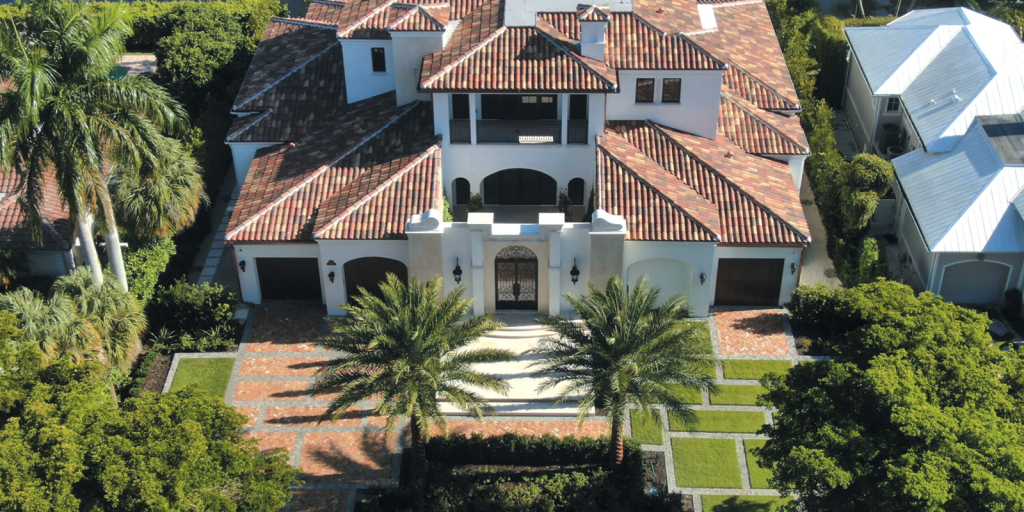 New Construction in South Naples, Florida
Barnes Construction Builders hired Saint Raphael Roofing to install clay and concrete tiles on this beautiful waterside South Naples, Florida home. Copper goose neck vents, valley metal, drip edge and wall flashing were chosen to complement the Spanish style architecture of the structure. Upon final completion of the roof, 8″ half round copper gutters were added to prevent erosion around the home by guiding water away from the foundation during storms.
Curb Appeal Transformation
Out with the old and in with the new! A classic standing seam metal roof was paired with some exterior updates
to transform this home's curb appeal from a Florida-style traditional residence
to modern coastal masterpiece.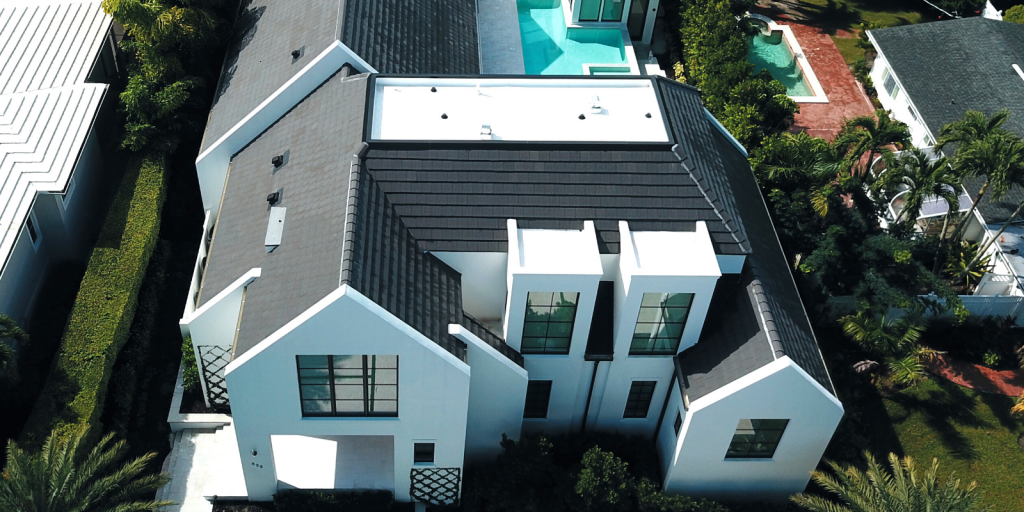 "I would HIGHLY recommend St. Raphael Roofing. I haven't come across a company down here as professional & meticulous as they were. My neighbors couldn't believe how organized and quick our roof was completed. Even the town inspector made a positive comment about the work, which made us feel good."
"My roof was damaged by Hurricane Irma. I could not get a roofer to call me back. A friend recommended Saint Raphael. I was given an estimate, a date and they did a GREAT job. Prompt, polite, and they cleaned everything up as they worked. They were hard working and very reasonable. My roof looks beautiful as well as my new gutters. I was pleasantly surprised and would recommend them gladly."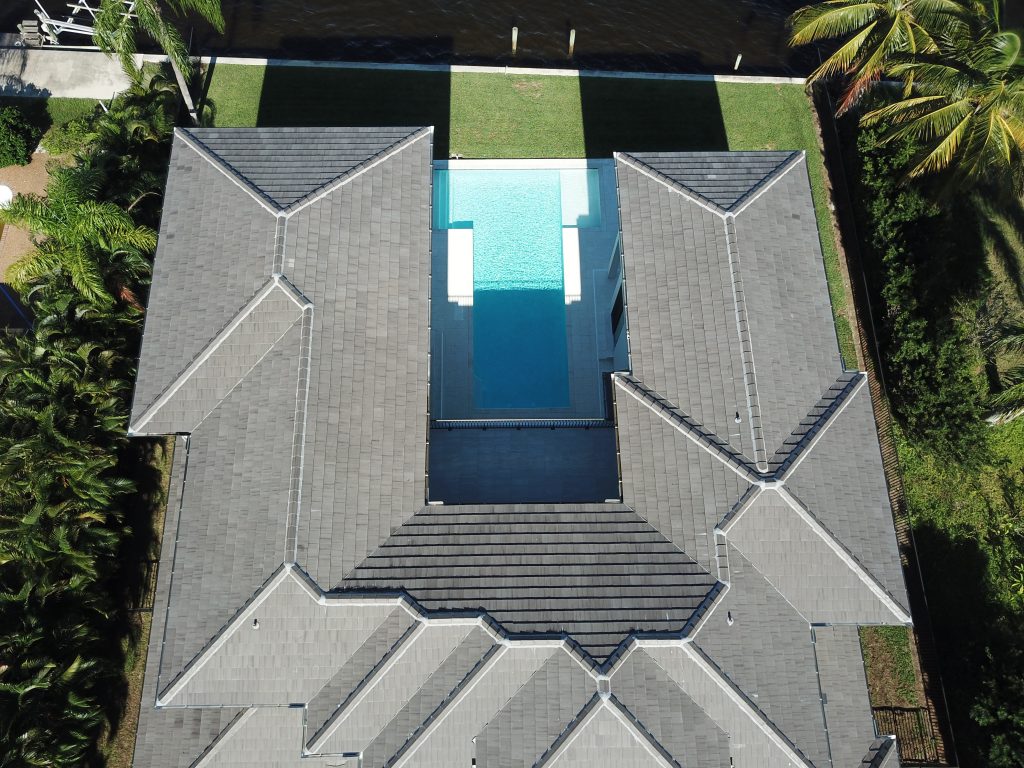 Cement Tile Roof Installation with Cap & Pan Turret
What Our Customers Are Saying
"Excellent! Only company I dealt with after Hurricane that delivered what was promised at a fair and reasonable price. Great service. I have recommended to 4 people and all have had really good experiences. They do what they say, when promised and if there are issues they are clearly communicated and dealt with timely and efficiently ."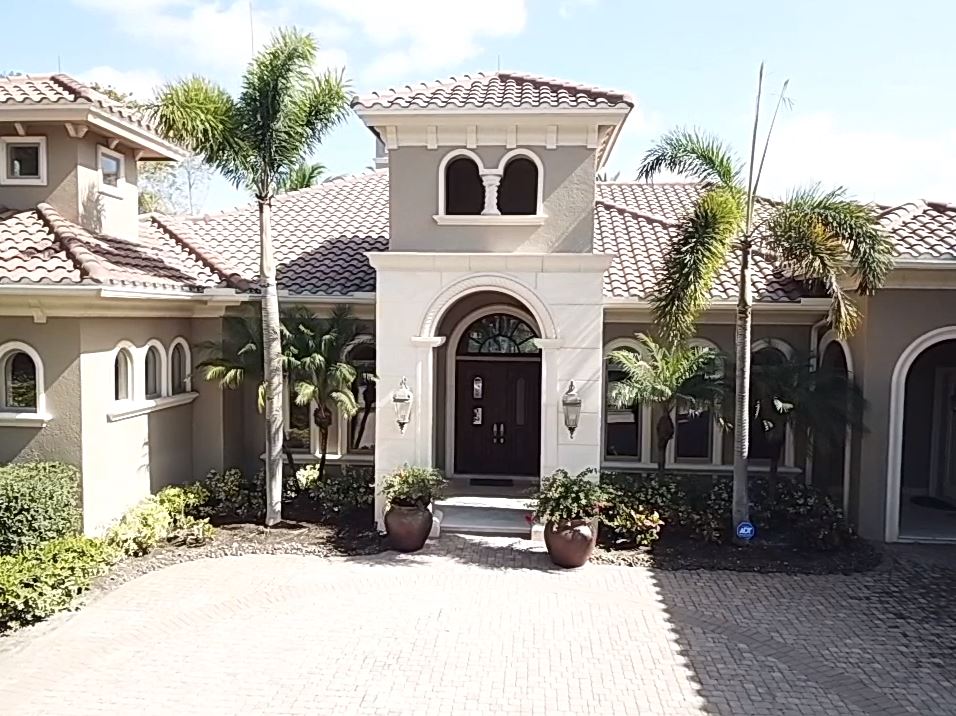 The Colony Golf & Bay Club
To repair this 5,484 square foot home in Bonita Springs, we used a superior quality Florida building code approved organic felt underlayment from GAP as a base layer before installing a new Polyglass self-adhered underlayment directly to the roof. Roof tiles were then installed with single component tile adhesive foam before adding new hip and ridge attachments along with new pipe flanges to all plumbing vent pipes. Our team made sure everything was cleaned and sealed properly to avoid any water intrusion. New off ridge vents were installed for higher capacity heat exhaust ventilation.
"We had Saint Raphael install our roof. They were timely, efficient, friendly and professional. Their pricing is extremely fair and reasonable. We are very pleased with the roof. We have recommended them to all our friends."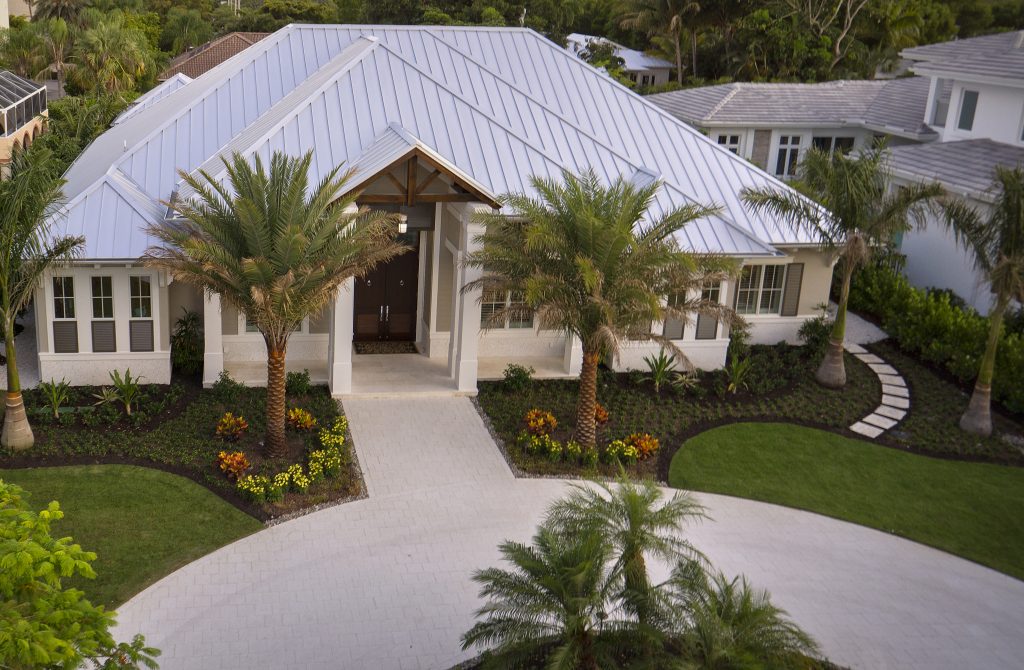 The Captiva Island Fire Station is located on Southwest Florida's Captiva Island between the popular Mucky Duck restaurant and South Seas Island Resort. For this project we used an Acrylic Coated Galvalume® metal roof designed to handle the high speed winds common for this area and chose a 5V-Crimp for a clean finished appearance.
The Captiva Island Fire Station
"My roof was damaged by Hurricane Irma. I could not get a roofer to call me back. A friend recommended Saint Raphael. I was given an estimate, a date and they did a GREAT job. Prompt, polite, and they cleaned everything up as they worked. They were hard working and very reasonable. My roof looks beautiful as well as me new gutters. I was pleasantly surprised and would recommend them gladly."