Mike is the Field Superintendent for residential new construction and roofing replacement projects, along with some commercial projects, for Saint Raphael Roofing. He regularly manages 7 to 10 concurrent projects and oversees the work of more than 30 employees. He has been with the company for 4 years and in the construction industry for more than 15 years. Mike goes to every project before the crews, introduces himself to the customer, and ensures owners are fully aware of all the details of the project. When the crews arrive, he introduces the foreman to the owner and ensures clients know that if there are questions or concerns, they can always reach the foreman, the salesman or him. Customers like to know they have multiple contacts for answers. Mike does not like to leave the house until the owners are smiling and comfortable that they will be taken care of from start to finish.
Mike will visit each project multiple times, walk the roof to be certain that codes are followed and there is no potential for leaks. Mike does a pre-inspection prior to any formal inspection to ensure the roof is ready and will be certified. After the final inspection he returns again, making sure everything has been installed properly and there will be no leaking. In his role, schedules and priorities can change quickly. Mike is flexible in regard to his schedule but is not flexible with regard to safety or quality. The work must be done safely and correctly.
Working with the crews, safety is extremely important to Mike. He ensures that crews tie off and follow all safety requirements as well as all construction codes. Mike has received both his OSHA 10 certification and his OSHA 30.
For Mike, working at Saint Raphael Roofing is all about teamwork. Everyone works together from the salesman to the office staff to the crews for the common goal of outstanding customer satisfaction. There is a high level of collaboration and they truly succeed as a team. Everyone does their part and supports the overall organization. He enjoys the friendly, family culture of the company. The shared values of safety, customer satisfaction, integrity and respect for all people make for a great place to work.
According to Mike, a great project is a safe project with no surprises for the owners. This, combined with exceptional workmanship, attention to details, adherence to the schedule, meticulous clean up, and crews that are friendly and respectful to all, result in outstanding customer satisfaction. The best days for Mike are those where he arrives to view the finished product and he is greeted by a smiling owner and their neighbors who have watched the entire project and are elated with the workmanship.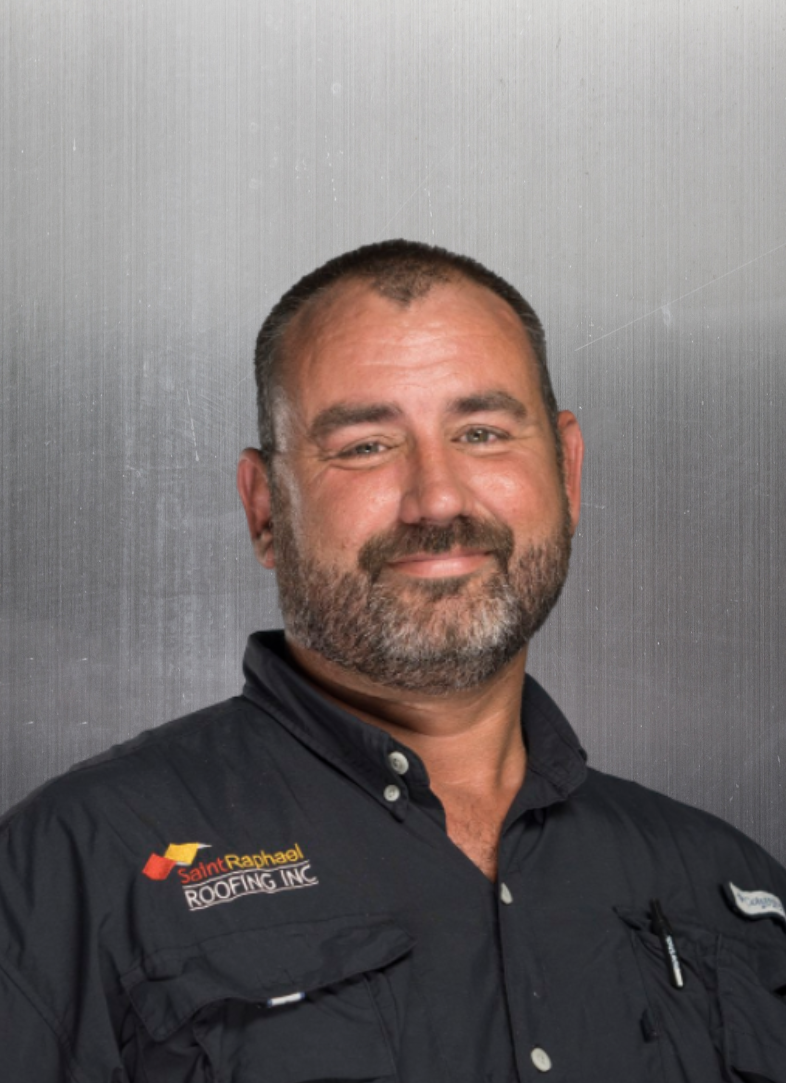 4 years with Saint Raphael Roofing
15+ years in construction
Safety: The safety of our customers, employees, and community is of the utmost importance.
Customer Satisfaction: Customers are the reason we exist. We strive to be easy to work with and reliable in all ways. We provide high quality products, craftsmanship and outstanding communications.
Respect For All People: We strive to treat all customers, vendors, co-workers, and others as friends and neighbors. We treat them in the same manner as we would like to be treated.
Integrity: Our business is built on trust. We will adhere to all applicable codes and regulations. Our communications with customers, with each other, and with the community will be open and transparent.
Teamwork: We succeed as a team. We must all do our part.