Fernando is the Field Superintendent for commercial and residential roofing repair and replacement projects for Saint Raphael Roofing. He is also occasionally involved with new construction. He has been with the company for 10 years and in the roofing industry for over 18 years. Each morning, Fernando works with the Service Manager and the crews to distribute the projects and explain what needs to be done that day. On Fridays, they also have a safety discussion. Following the morning actions, he will go on to appointments, check warranty jobs, meet with owners to discuss new projects, deal with any complaints, and check on the crews to ensure safety procedures are being followed and the work is being done correctly. When the crews complete a project, he visits again to ensure that all the work has been done correctly with high quality craftsmanship and the owners are satisfied.
Customers are the focal point of Fernando's work. He is committed to keeping the customer satisfied and strives to keep them happy and improve every day.
He wants his crews to be the best they can be. He tells them he does not desire fast or slow work. He wants them to do high quality work. He also advises them to always be professional, keep a clean work site, and be nice to everyone. He feels great when he visits a job and the neighbors come and talk to him and request a business card because their friend has recommended Saint Raphael Roofing and they have watched the job and are impressed by the professionalism and craftsmanship exhibited by the crew.
Fernando's persistence, strong work ethic, dedication to quality and to continuous learning have served him well at Saint Raphael Roofing. He began his career by following his brother and friends into the roofing industry. He left roofing following a safety incident but turned it into a learning opportunity and came back determined to succeed and lead others safely. He began at Saint Raphael Roofing by installing shingles and soon added responsibilities in additional areas. He then served as a crew leader for 6 years prior to his current role.
Fernando is active in and cares for his community, serving his church, and helping feed and clothe the homeless both locally and in Mexico. He helps support competitive youth soccer and challenges the athletes to perform to the best of their ability and always keep trying to improve. Fernando's life philosophy inspires the athletes and can be applied to many life lessons: Never say you can't. You can persevere and show others that you can, if you have the commitment to learn, practice, and improve.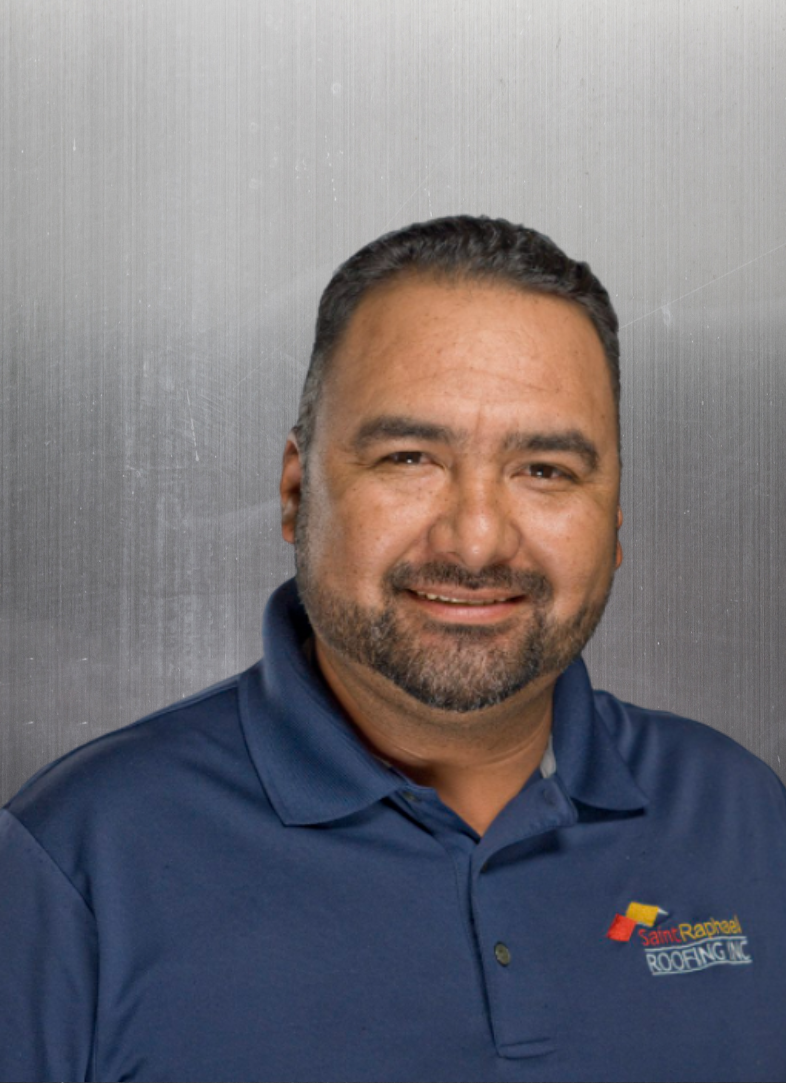 10 years with Saint Raphael Roofing
18 years in the roofing industry
Safety: The safety of our customers, employees, and community is of the utmost importance.
Customer Satisfaction: Customers are the reason we exist. We strive to be easy to work with and reliable in all ways. We provide high quality products, craftsmanship and outstanding communications.
Respect For All People: We strive to treat all customers, vendors, co-workers, and others as friends and neighbors. We treat them in the same manner as we would like to be treated.
Integrity: Our business is built on trust. We will adhere to all applicable codes and regulations. Our communications with customers, with each other, and with the community will be open and transparent.
Teamwork: We succeed as a team. We must all do our part.