Fernando is a Roofing Consultant for Saint Raphael Roofing. In his current role, Fernando is working to establish and build an annual service agreement program with homeowners and commercial accounts to extend the life of roofs and provide peace of mind to the owners through regular inspections, minor repairs, and enablement of early intervention for larger issues. In Southwest Florida, there is a constant battle between nature and the roof. It can be very helpful and cost effective for the client to have this service and prolong the life of the roof. Fernando has trained the sales team on the benefits of this approach to enable them to inform the customers and sell the product. To ensure the customers know they have multiple points of contact within the company, Fernando also builds relationships with maintenance program customers and will work to ensure that each year, they receive what they paid for.
While Fernando's primary focus is on the annual service agreement program, he also does some selling of new construction roofing for both residential and commercial projects. In this role, he works with the customer from the initial inquiry through the completion of the project and strives to maintain the relationship long term.
Both roles require the trust of the customer. Fernando works to gain and build trust by his follow through and commitment to 100% accountability. If something does happen to go wrong, he will work to face it and make it right.
Fernando feels fortunate to work for a company where the leadership sees beyond the occasional temporary situation. They take a long-term view, making things right to satisfy the customer. Having the support to do things right makes it easy to have confidence when talking with potential customers and makes it easier to build trust and long-term relationships.
Fernando sees that it takes the whole team at Saint Raphael Roofing to create successful projects. Office staff must ensure great communications and scheduling. Sales and estimating must build trust and develop competitive bids. Crews must work together as professionals to be efficient, provide high-quality installations, and continue building customer relationships. Fernando sees that the Saint Raphael Roofing leadership has streamlined and improved these processes to make them work better for the customer and the business. Built for mutual success, the team and the processes at Saint Raphael Roofing are held together by a company culture that provides a strong focus on customer satisfaction.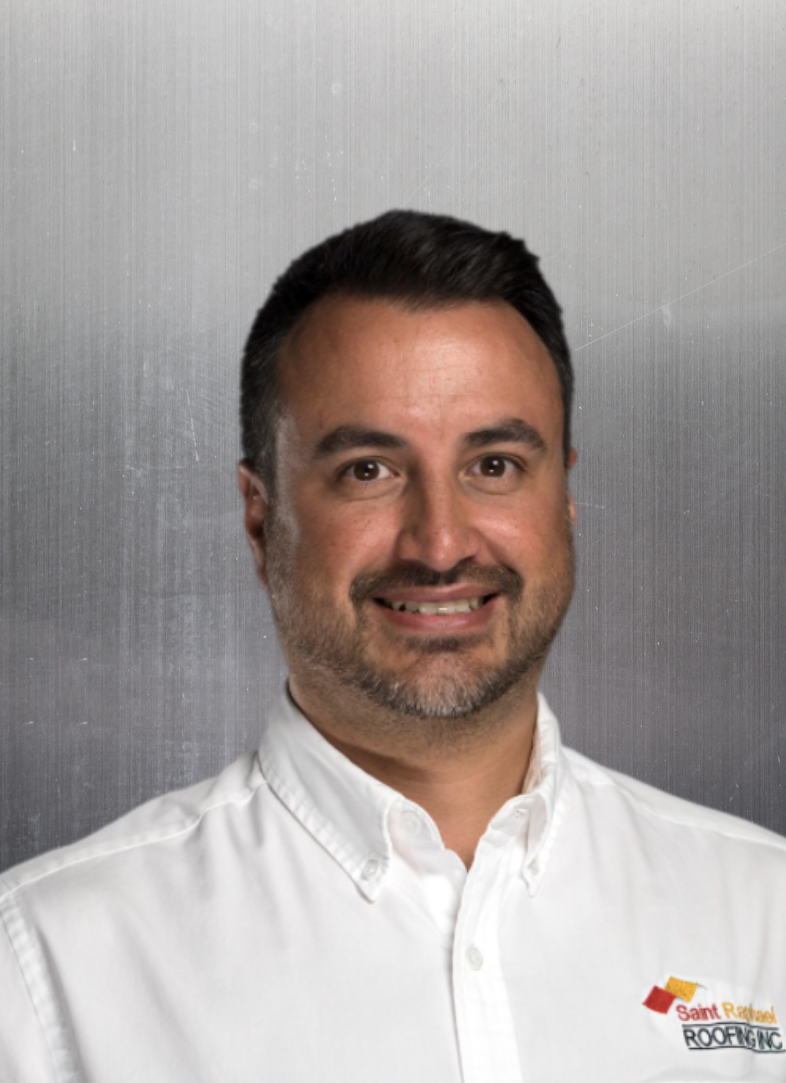 1+ years with Saint Raphael Roofing
7 years in the Roofing Industry
Safety: The safety of our customers, employees, and community is of the utmost importance.
Customer Satisfaction: Customers are the reason we exist. We strive to be easy to work with and reliable in all ways. We provide high quality products, craftsmanship and outstanding communications.
Respect For All People: We strive to treat all customers, vendors, co-workers, and others as friends and neighbors. We treat them in the same manner as we would like to be treated.
Integrity: Our business is built on trust. We will adhere to all applicable codes and regulations. Our communications with customers, with each other, and with the community will be open and transparent.
Teamwork: We succeed as a team. We must all do our part.